Tuesday, September 3, 2013
Posted by

mandysea
at 9:38 AM
No comments:

Links to this post
Sunday, September 1, 2013
With the moving on of our design team things will be changing at Scraptherapy.
This will be our last sketch challenge for the immediate future - keep an eye out, I will be back with a suprise challenge here and there for you all.
With no further ado, I actually have two winners to be announced tonight - firstly our sketch challenge from July as we were in the USA at the end of July and this was never decided
Sorry you had to wait so long to find out the results:
JULY WINNER
Congrats Leanne
who wins $50 worth of Washi Tape which looking at this layout I know she will put to good use!

And August's winner was another very hard choice - but our winner this month truly embraced those great little pie shapes and added some fantastic colours
AND
Special Mention to Angie with this great
layout
THanks to everyone who took part in our sketches!
Posted by Lee-Anne
at 8:23 PM
4 comments:

Links to this post
Saturday, August 31, 2013
It's the last day of August and the last day for our Design Team as we know it....
So..., it's time for a change........ to say bye for now......
We have come to the end of an era really - as Julie, Deb and I (Mandy) have been on this design team since April 2011 so its been quite a long time!
Along the way Tiff and Karen joined in too.
And its also been a second time around for Julie and I being here on a previous team back in 2008/2009 (you can tell we love this place!)
We have thoroughly enjoyed it, created projects with fabulous products, and even created projects we never dreamed of creating!
We would all like to thank Lee-Anne and Danny for everything – Scrap Therapy is like 'home' to us. Its been a privilege designing for Scrap Therapy alongside such wonderfully warm and talented ladies and forming firm friendships.
We are also thankful for all the lovely encouraging comments from you (our readers, followers and visitors) too!
Most of all, we will still be around, definitely buying our scrappy goodness from here at Scrap Therapy to keep our hearts racing as we stalk the mailman and keeping current on our own blogs.
So to say goodbye and finish off our last post….
We will leave you with projects that represents us and our scrapping……….
DEB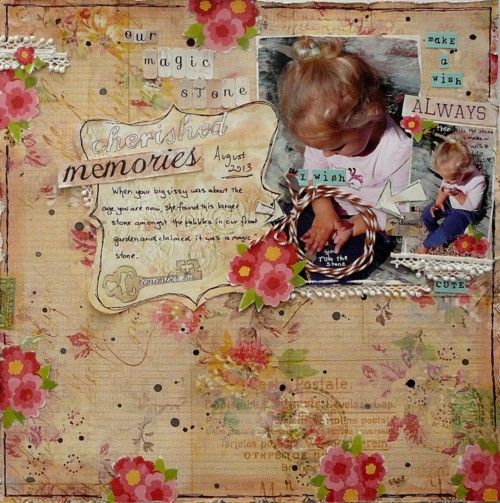 Products used.
Prima Fairy Rhymes (secret garden)
Prima Lifetime Collection (love tags)
Echo Park Beautiful Life (bouquets)
Prima lifetime
alphas
Tim Holtz Distress paint (antique linen)
Tim Holtz Distress stain (tattered rose)
Tattered Angels glimmer mist
(graphite)
Teresa Collins Vintage finds
twine
Lace
JULIE
Products used:
Prima
Fairy ryhmes
Secret garden 12X12 paper
,
wooden buttons
and
Love note collection flower and doily pack
Tim Holtz
bundled sage distress ink and
stain
used in a spray bottle as a mist.
Basic grey
letters
White ribbon coloured with distress stain.
Prima packaging for banners.
MANDY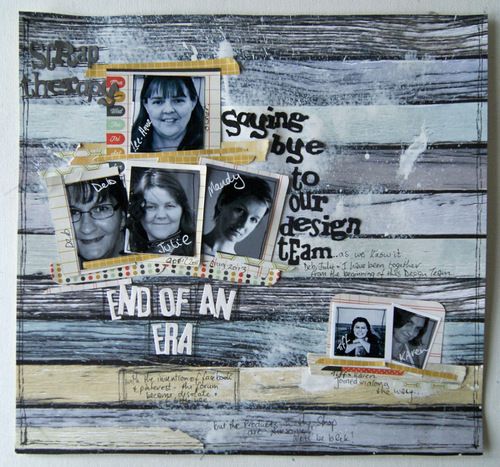 Products used:
MME Miss Caroline Fiddlesticks 'Story' Farmhouse Paper
WRMK Albums Made Easy Webster
Tim Holtz Alphabetical Die
Tim Holtz Chip Block Alpha Die
Black Cardstock
Grey Cardstock
White Cardstock
Gesso
Black Pen
Bye for now
xx

Posted by

mandysea
at 10:47 PM
3 comments:

Links to this post