and if you would like to be inspired by some Easter challenges then pop on over to the forum to see what the Therapists have in store for you.
Easter morning.
She also has got a
materials list
posted for a blind scrap that will be running on Tuesday night and if you pop in for the blind scrap you will also be around for a guessing game.
Deb has posted a
step by step
on how she made the bunny and basket on this layout.
Two cute bunnies
And if you are in the mood to get messy she has also posted a
Prima mask step by step
. Here is her finished layout.
Cute expressions.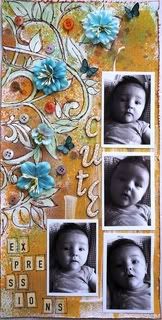 And if you are need an idea of a quick and easy treat bag ready for tomorrow then pop on over and check out Julie's
Treat bag step by step
.
Easter treat bag.
And if that isn't enough inspiration for you then pop in and check out the
monthly challenges
.
Thanks for popping in. Hope to see you all in Therapy.