I've been watching and reading all about Project Life, and thought it wasn't really for me, but the more I read, the more I blog hopped, the more I saw the products....
weeeeeeeeeeeell, I thought I'd have a go. Let's see if I do like this whole idea of weekly page for the year of 2013.
Yes, yes, I know... its April already - but that's okay each page only needs to be a couple (could be more, could be less) of photos representing each week. So looking back through my pics since the start of the year... I can do that! I've printed them out, popped them in an envelope with the week number on it.
I've thought about the size - and I've gone 12x12 - one album - this one:
You can find a wonderful choice of Albums (all sizes) and Inserts
HERE
As soon as you turn the cover over, there's a little black plastic insert that helps hold all the pages in place when the album is full. I've adhered the year on the plastic insert. Its made from Tim Holtz 'Word Play' die (I think its sold out, but ask Lee-Anne about it)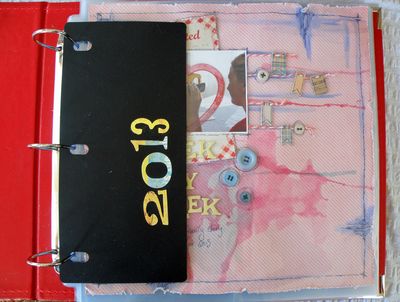 I've made my sketch LO for April, my cover page.... and used a picture of Paige recording Hannah with the camera - so it was perfect. Its a 12x12. LO
Which means, I've done another 12x12 LO with Week One's photos for the reverse side to put in the same 12x12 sleeve. And luckily
this paper from Simple Stories
has pretty much done the work for this particular project for us!
I seem to need to come to the terms that the purpose of doing pages like this are to be basic, and refrain from wanting to add more product - keep the time down that I'd normally spend on a page so it remains a viable productive weekly project and still be happy visually with the outcome... might be a challenge - I'm not sure
Nope I don't think it will take long to catch up to April. So long as the photos are continually taken and uploaded to my computer, then there are plenty to choose from.
Here's Week One's page.
WRMK's Simply Spring Raindrop Cardstock
Prima Lifetime Brads
I'm off and running!
And this is going to be a regular spot... so keep watching!
Oh and p.s....
If you are into this... then look over at the pink right hand bar and you will see a 'Great for PL Styles' heading.... and it can take you to all sorts of products
http://www.scraptherapy.com.au/categories.php?cat=726
Thanks for reading everyone - What are your thoughts for this Weekly Life Project??