I can't believe it's the middle of November, time to start getting ready for Christmas. So I thought I'd show you a little advent calendar I made for Ash to count down the days until Santa comes, starting on Dec 1st.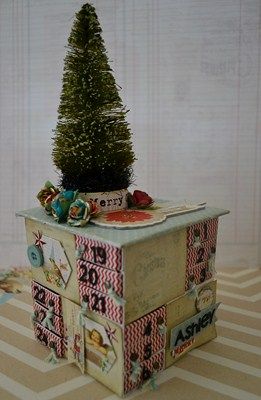 I do apologise for all the photos, but wanted I to show you how to make this in case you have little ones ( or big ones ) of your own who'd like to count down to Santa
The first step is to empty out 24 matchboxes and stack them into eight piles of three, and glue. ( it would be much faster and easier with a gluegun but mine has decided to stop working ( hmmm perfect Christmas wish list item I think...)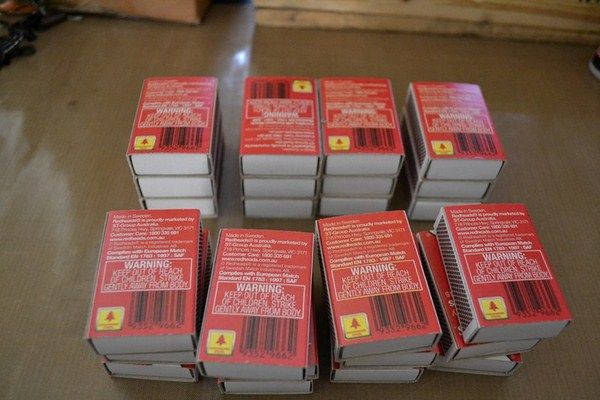 Once your piles of three are stuck together and dried the next step is to arrange and glue them in a box shape, with one lot of openings on each side. Make sure to take the inside of the matchboxes out before you do this step - otherwise your draws make stick and not open.
Do this twice , and then stick them on top of one another to form a cube.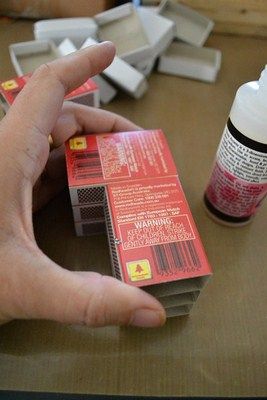 For the top I measured a piece of chipboard to four inches by four inches - about a half inch bigger than the top of my cube, covered it in paper, and stuck it to the top of my cube. To give it a bit of stability I cut a piece of cardboard to size to fit the bottom, and stuck the cube onto this.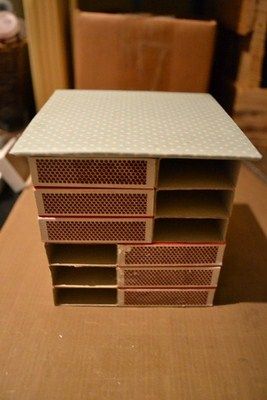 I gave the exposed pieces a quick paint, ( I also painted the inside piece that pulls out of each matchbox, just to seal it) measured the sides and cut pattern paper to size, inked the edges and stuck two pieces to each side of my cube.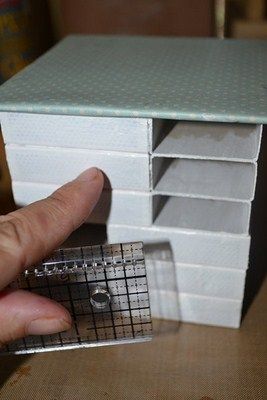 For each draw of my cube, I covered the end in a piece of washi tape, pierced a hole in the front - off to one side - I did twelve on the right and twelve on the left, so I could alternate them. Placed a looped and tied piece of twine around the prongs of each brad, and attached them to the draws to make something to open each drawer with. I then numbered them with small stickers from 1 to 24 and put them back into the openings of each match box. The last thing to do is to decorate each of the sides and the top, and fill it full of little goodies.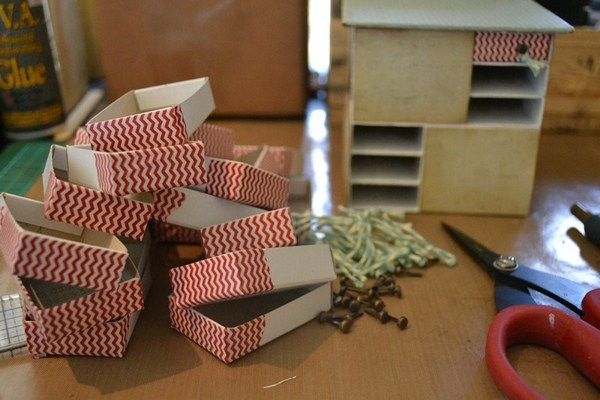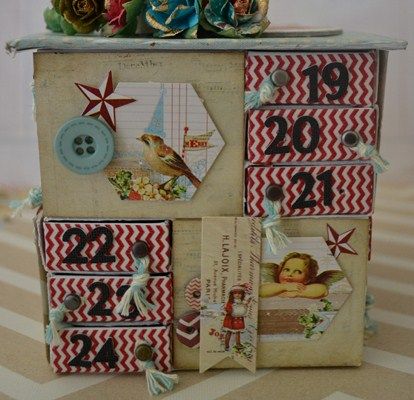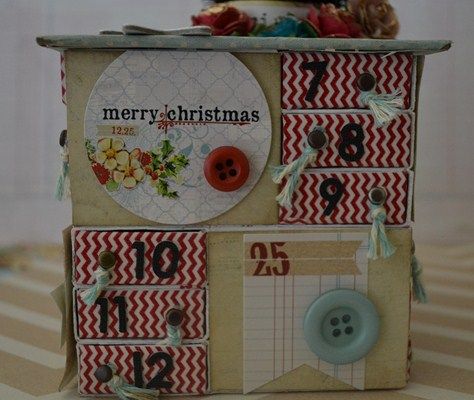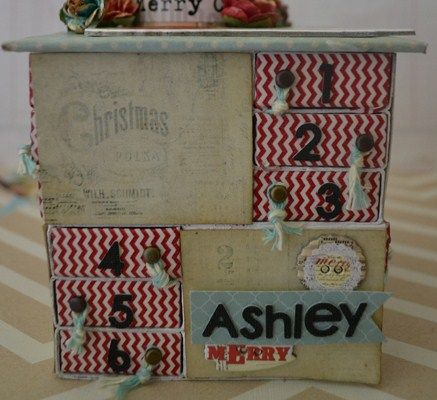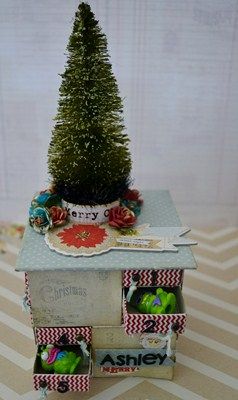 For my Christmas tree on the top - I have used one of the new gorgeous Tim Holtz Woodlands Trees - these are a creamy colour when you get them, I have coloured mine by giving it a spray - using distress re-inker mixed with a few drops of water in a mini mister.
Thanks for sticking with me until the end..I'd love to see if you have a go at making one of these!
Products used:
Tim Holtz Woodlands
Forest moss Re inker
Long Fasteners
My Minds Eye - Twine
My Minds Eye -Chipboard
My Minds Eye - Buttons
My Minds Eye - Paper Kit
have used the paper and stickers in this.
My Minds Eye - All is Bright Washi Tape.
Distress Ink - Gathered Twigs



Karen

-----------------------------------------------



Dont forget to join in the November Sketch to be in the running for a $50 shop voucher!