For a few years now I have been doing a Christmas photo shoot during the first week of December and using one of the photos on my cards for family and close friends. Seeing as I make roughly twenty of them, I keep them all the same, pretty simple, and have a production line going.
Here are this year's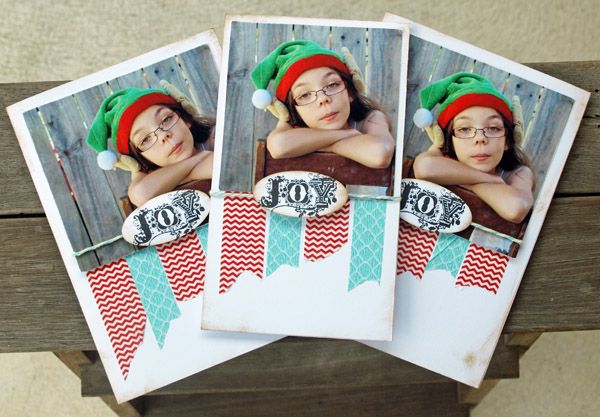 Using
Cardstock
White,
My Minds Eye
All is Bright
Stamps
,
Twine
, Washi Tape,
Black Versa Fine Ink
and
Frayed Burlap Distress Ink
.
------------------------------------------------------------
Mandy's Chevron Christmas LO
I love the face that Meaghan pulls here - its such a mischievous/cheeky one, so its easy to create a bit of a scene here
The background is a mixture of three MME chevron papers with some of their zig-zaggy stripes cut out and arranged over the top of/ or next to each other when laid out on
Kraft Cardstock
. It really creates a fabulous background! (I did swipe over the Kraft cardstock with white gesso first
)
The papers I used were
My Mind's Eye 'All is Bright'
Chevron Paper
Linen Paper
Christmas Tag Paper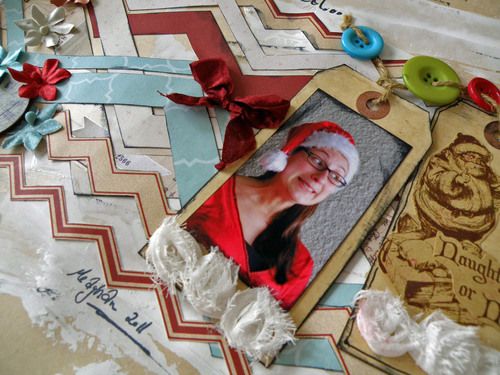 Other products used were:
Fancy Pants Saint Nick Card Embellishments
Fancy Pants Saint Nick Buttons
Tim Holtz Trimmings
(rosettes, and misted bow seam binding)
Prima Camille En Francais Flowers
Prima Wood Clocks & Tickets - Paris
Note:
If you find any of the products have sold out due to being popular, send Lee-Anne a message and find out if it can be made available soon!