Do you remember the layout I created for my
Just for fun challenge
posted a while back on the blog.
Best Beach Memories
When I printed out the photo's for the LO above, I printed some extras as I wanted to make a second page and thought I would use a 6x4 divided 12x12 page insert I've had here for a while plus try and create something project life style.
I gathered up a few of the papers used on the first page as I wanted it to flow. It was a matter then of playing around with them and my photo's to form the PL style.
Here are the 6 mini layouts as I called them.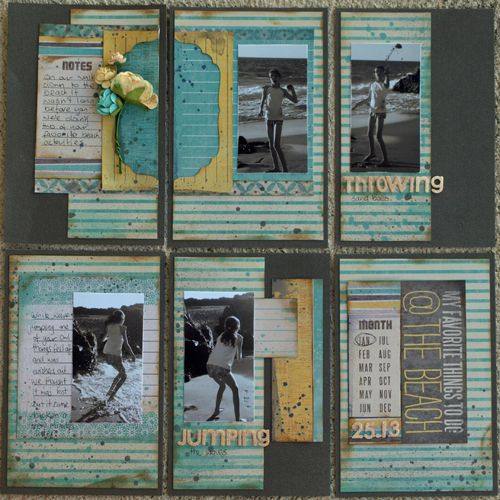 Using
WRMK
Boardwalk
Boardwalk pier 12x12 cardstock
,
Barnacle 12x12 paper
,4x6 pad and
lace
.
Prima
Life time
,
Craftsman
and Vinetta Fairy bell flowers.
Tim Holtz
distress ink
Frayed burlap
American craft 12x12 6x4 divided refills
I think I like the idea of a second divided page following on from a big page and may play around with doing some more
Also, don't forget to take part in our June Sketch Challenge due by midnight 30th!
You can find it
HERE